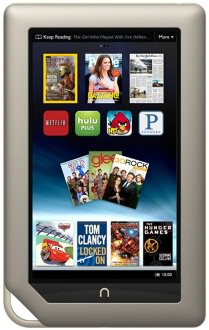 My sweet son and his lovely wife presented me with a Nook Tablet for my birthday/Mother's Day gift this year. Chad took me through the basics and I started buying books. What I figured out pretty quickly is that I could go broke in a hurry because it is just so easy to buy a book on line and have it appear moments later on my Nook ready to read.
I have seen a couple of quilt blogs that point out free books for the Kindle but nothing for the Nook. If you are a Nook reader and are looking for some inexpensive (and often FREE!) books to download,
here
is a great link. I just added the link to my blog reader and automatically get updates throughout the day.
Now to find free quilt patterns I can download!